Lauki with punjabi wadiyan
(Bottle gourd/ opo squash/ ghiya/ doodhi)
Punjabi wadiyan are sun dried lentil dumplings with whole masala's.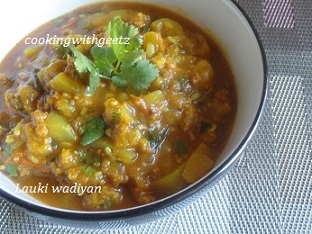 Ingredients:
2 medium size lauki (peeled, cut into 1 inch and dipped in water)
3-4 punjabi wadiyan
2 medium size tomatoes, finely chopped
1 -2 green chillies, chopped
1 tbsp ginger chopped
1 tsp cumin seeds
½ tsp turmeric powder
½ tsp red chili powder
½ tsp garam masala
½ tsp cumin seed powder ( jeera powder )
¼ tsp amchoor powder (dry mango powder)
½ cup fresh cilantro chopped
Method:
In a pressure cooker add oil. Add cumin seeds. Once the start spluttering add ginger and green chillies.
Stir for few seconds and add tomatoes. Stir it till tomatoes are cooked.
Mean time crush the wadiyan into around ½ to 1 inch pieces, as normal they are around 3 inch.
I wrap them in a kitchen towel and with help of rolling pin ( belan ) beat them up 2- 3 times.
Now add these wadiyan in cooker. Keep stirring it continuously for around 2-3 minutes and if required add another tbsp of oil as wadiyan should not stick at bottom.
Once wadiyan start changing the color towards reddish brown, add salt, turmeric powder and garam masala. Add few tbsp of water if you find masala is sticking at bottom. Stir it well for a minute.
Now add lauki. Add ¼ to ½ cup of water. Don't add too much of water as lauki also leaves a lot of water.
Now pressure cook it for 3 whistles. Leave it for 15 minutes .Now open the pressure cooker and see the consistency of the curry.
If you find it too liquid in consistency than dry it on low medium flame without lid. Also add cilantro, cumin seed powder and dry mango powder at this point.
Serve lauki wadiyan with hot chapati's and boondi ka raita..