Kaala chana
(Black grams / Black chickpeas)
(For Ashtami and Maha Navami Bhog festive occassions)



Other food items cooked as bhog for Asthami and
Maha Navami (along with Kaala Chana) are: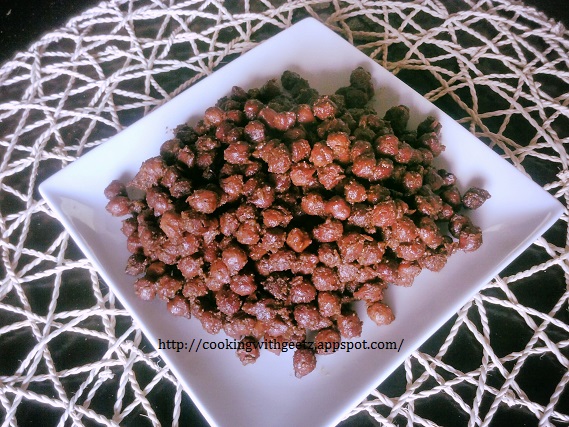 Ingredients:
1 cup black chana (soaked overnight in water)
1 tbsp chana masala
1 tea bag of masala tea (optional)
½ tsp coriander powder
½ tsp cumin powder
1 tsp cumin seeds (jeera)
¼ tsp red chilli powder
Salt to taste
1 tbsp of ghee / vegetable oil. (I use ghee)


Method:

Boil the chana in pressure cooker with enough water , salt and tea bag till done.
Make sure you dont add too much of water as we are making dry chana.


When chana are done, take out the tea bag from the it.
(Tea bag is used for good dark color and all the flavors of masala)


Heat oil in a pan, add cumin seeds. When they begin to splutter, add all the masala's.


Now add boiled chana to the pan, along with left over water in chana's.
(left over water should not be more than ¼ cup).


Give it a good mix and let it cook till left over water evaporates.


As these chana's are for bhog so you cant taste them to adjust the salt and other masalas.
So be accurate with the measurements.


Black chana are ready for bhog.