Dry cheese chilly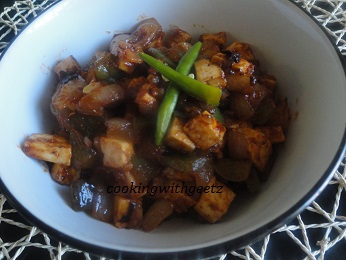 Ingredients:
Cottage cheese(paneer) – 250 gm (cubes)
1 Capsicum cut into dice
1 Tomato grinded
1 Onion roughly chopped
1 tbsp Ginger paste
1tbsp garlic paste
3 Green chilli chopped
2 tbsp Oil
1 tsp Cumin seeds
½ tsp oregano(optional)
Sugar -1 tsp
Chilli powder – 1 1/2 tsp
2 tsp dry red chilly crushed(chilli flakes)
Tomato sauce – 4 tbsp
Soya sauce - 1 tbsp
½ tsp black pepper powder
Salt to taste.
Method:
In a bowl dip cottage cheese with ½tsp of salt in hot water for about 5 minutes. (You can also fry them)

Take another pan, heat oil, add cumin seeds. When it splutters add onions and fry it for few seconds and add capsicum. Stir fry them on high flame for 2 to 3 minutes. So that capsicum turns crispy from outside but remains juicy from inside.

Add ginger and garlic paste, stir for few seconds. Add all the spices like chilli powder, crushed chilli powder, tomato puree and sugar and mix well.

Add half a cup of water and cook until all the liquid is absorbed and spices are cooked well.

Add tomato sauce, soya sauce and green chillies. Now add paneer pieces. Mix well.

Keep it on low flame so that cottage cheese absorb the flavors of your sauce. Sprinkle oregano and black pepper on top.(cottage cheese will not take much time to cook as in starting we have already dipped it into hot water).

Take it off the flame and garnish with spring onions or cilantro.