Semolina pudding
This pudding is very near to Indian Semolina halwa (suji halwa). All you need to do is adding of few more ingredients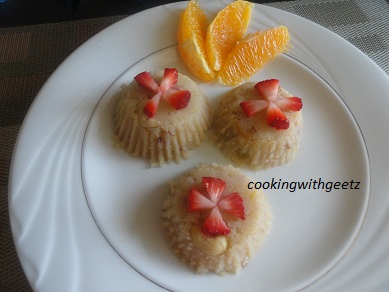 Ingredients:
½ cup semolina(Rawa/suji)
½ cup grated apple
½ cup + 2 tbsp of sugar
2 cups water
3-4 chopped strawberries
3-4 tbsp chopped nuts(I used cashew nuts and almonds)
1 tsp mango essence
1 tbsp orange rind
2 tbsp orange juice(fresh)
4 tbsp Ghee
Method:
Roast the nuts in a tsp of ghee. Keep them aside.
Now in same pan add the ghee, semolina and grated apples.
Stir it continously for 3-4 minutes on low medium flame, till it starts being aromatic and semolina and apples are no longer raw.
Side by side keep the water for boiling and also add sugar to it. Once the water comes to boil and sugar is dissolved add this water to semolina.
Make sure you keep stirring it to avoid lumps. Keep stirring till it comes to a thickness like a pudding or Halwa.
Add fresh chopped strawberries, orange rind, orange juice,mango essence and nuts.
Give it a good stir for another 2 minutes. Take it off the flame. And serve it hot or chilled. I love it chilled.