Mango Yogurt Verrine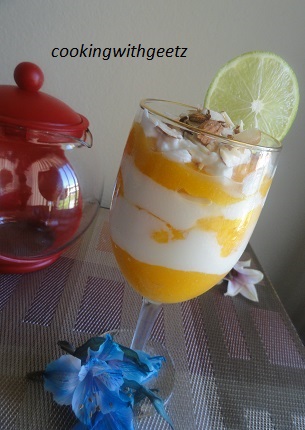 Verrine is an appetizer or dessert made of components layered in a small glass .Ingredient layers can be sweet or savory, hot or cold, raw or cooked,dessert or snack, custardy or whipped, creamy or liquidy — just about anything with contrast to create an element of surprise for the diner. Have you ever tried a verrine? If no here comes few of the simple and yummy recipe.
Ingredients:
1 cup mango pulp
½ mango cut into dices
1 cup Hung Yoghurt(Or vanilla flavor yoghurt)
few drops of vanilla essence
2-3 tsp of sugar
Crushed nuts for garnishing
** If using vanilla flavor yoghurt , than omit sugar and vanilla essence.
Method:
If using hung yoghurt, add sugar and vanilla essence into it. Mix it well till sugar is dissolved .
Now keep yoghurt and mango pulp in freeze for 15 to 20 minutes.
In a wine glass start making layers. Starting with mango pulp, than vanilla yoghurt, Mango pieces, than again yoghurt and mango pulp.
Now in a piping bag fill the remaining yoghurt and fill the top with it. Add mango pieces and nuts. Serve it chill after dinner.