Cilantro/coriander/Dhaniya chutney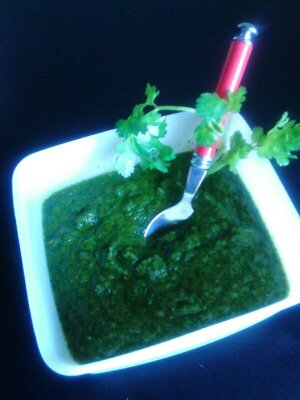 Cilantro has numerous health benefits. It is an excellent source of minerals like potassium, calcium, manganese, iron, and magnesium . It is also rich in many vital vitamins including vitamin-A, beta carotene and vitamin-C that are essential for optimum health. Vitamin-C is a powerful natural antioxidant. The fat soluble vitamin and antioxidant- Vitamin A, protects from lung and cavity cancers. Cilantro leaves provides 30% of daily recommended levels of vitamin C .
Coriander is also good for diabetes patients.
So here comes a wonderful mouth watering recipe of coriander chutney which is excellent as an sandwich spread. You can use it over your toasted breads or dhokla etc. It can also be served with pakoras or even paranthas.
Ingredients:
Cilantro/Coriander/Dhaniya leaves – 1 bunch (chopped)
1 small onion sliced
¼ cup roasted peanuts(optional )
1 tsp tamarind paste
1 tbsp vinegar
1 tsp Dhaniya powder
Salt – to taste

3 Green chillies (slit)

½ tsp red chilly powder or black pepper

½ tsp sugar

½ tsp Lemon juice
Method:
Blend all the ingredients and grind it into a smooth paste in a mixer.
Your coriander chutney is ready.