Sponge cake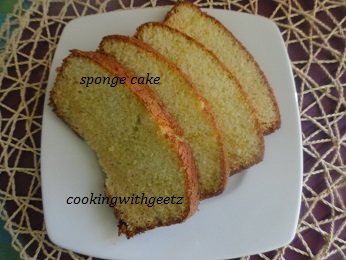 Ingredients:
1 cup all purpose flour
2 eggs
1 cup + 2 tbsp sugar
¼ cup milk
¼ cup oil
¾ tsp baking powder
¼ tsp baking soda
1 tsp mango essence (optional)
Method:
In a bowl whisk eggs and sugar with a hand blender till light and fluffy. Now add milk and mango essence. Mix it.
Sieve flour, baking soda and baking powder in a bowl and add them in wet ingredients.
Mix them nicely with no lumps in batter. Now add oil and mix.
Grease the baking dish with oil , pour the batter in dish and bake it in pre-heated oven at 350f for 30 to 35 minutes .
Check by inserting tooth pick if done.
Yummy sponge is ready to eat.
You can also use this cake as base for your black forest cake or for any other cake for icing.