Chocolate cupcakes
with Vanilla frosting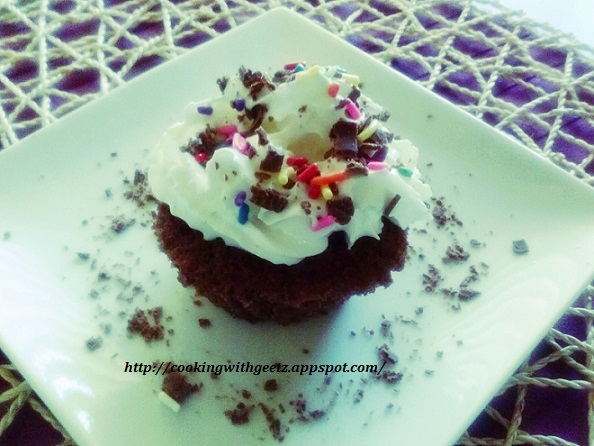 Ingredients:
1 cup all purpose flour (Maida)
2 oz butter (room temperature)
1 cup sugar
2 eggs
3-4 tbsp Oil
¼ cup milk (room temperature)
¾ tsp baking powder
¼ tsp baking soda
3 tsp cocoa powder
3-4 drops of vanilla Essence
Vanilla heavy whipped cream

Method:

Whisk butter, sugar and eggs in mixing bowl till light and fluffy.


Add milk and vanilla essence and mix.


Sieve flour, baking soda, and baking powder in a bowl.


Now start adding dry ingredients into the egg mixture .


Add half of it, mix and than add rest of the dry ingredients. Now add 4 tbsp of oil into the batter.


Now take your muffin tray or cups.


Bake them in pre-heated oven for around 20- 25 minutes. (It took me 23 minutes).


Insert a tooth pick to check if they are done. Your tooth pick should come out clean.


Let them cool for 15 minutes.


Your chocolate cupcakes are ready .You can eat them as such and store them for 4 -5 days .


They really come out very spongy and yummy.


You can also do the icing with whipped cream the way I did.