Yummy Instant Dhokla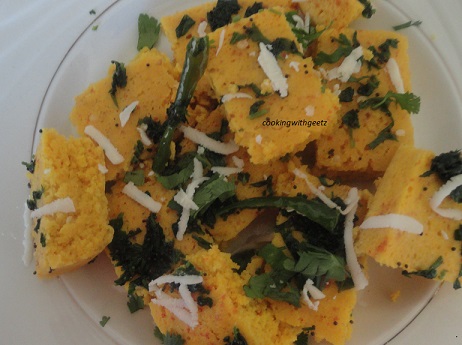 Ingredients:
1 Cup gram flour (besan)
½ cup Yogurt(Curd)
½ cup water
1 ½ tsp fruit salt(Eno - regular one)
½ tsp salt
½ tsp sugar
1 ½ tsp ginger paste
1-2 green chillies chopped
Pinch of turmeric
For seasoning:
2Tbsp oil
1 tsp mustard seeds
2-3 green chillies sliced
few curry leaves
fresh chopped cilantro
½ cup water
2 tsp sugar
shredded coconut for garnishing(optional)
Method:
In a mixing bowl add besan and yogurt. Mix them well. Now slowly slowly keep on adding water .

Make sure there are no lumps.

Now add salt, turmeric powder,sugar, ginger paste and chopped green chillies. Mix them well.

Now take the microwave proof bowl and grease it nicely with oil.

Just before pouring the mixture into greased bowl, add Fruit salt to the mixture. Once you add fruit salt, sprinkle some water with hand on fruit salt, you will find bubbles. Than mix it lightly. The mixture will rise at this time.

Immediately transfer the mixture to greased bowl.

Microwave it for 4 to 5 minutes. 4 minutes is the minimum time and rest it depends from microwave to microwave. It took me 4 minutes 10 second.

Once your dhokla is ready. Let it cool down for 2 to 3 minutes in the same bowl. Than cut it into desire shape. Usually it is in shape of square.
Now prepare the seasoning:
In a pan, add the oil and mustard seeds. Once they start crackling, add curry leaves, green chillies and cilantro. Mix it for about 30 seconds.

Now add water and sugar to the same.
| | |
| --- | --- |
| Once it starts boiling nicely, Pour the seasoning on your dhokla. | |
Let the dhokla absorb the flavors of seasoning. I usual keep it in fridge for some time to cool down nicely.

Take out in a serving dish and garnish it with fresh coconut and serve it with the chutney of your choice. I like it with tamarind chutney.:-)
Note:
I don't like too much of watery dhokla so I added half cup of water only. If you want to make it more watery increase the amount of water to one cup and increase 1 spoon of sugar too. Give it 2 to 3 boils before pouring.