Vegetable sambar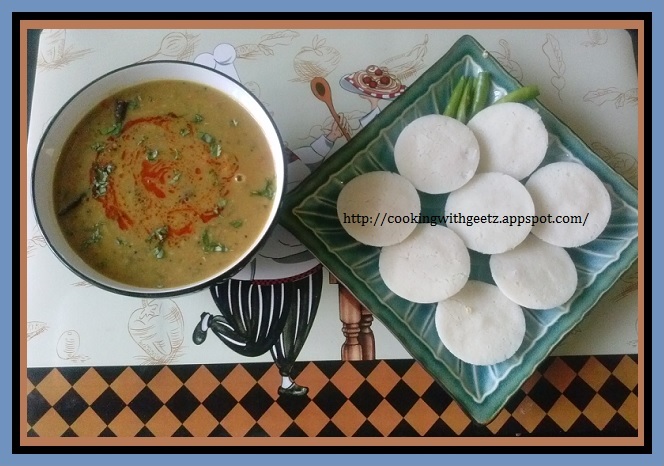 Ingredients:
½ cup tur dal
1 onion sliced
1 tomato chopped
1 cup of chopped mix vegetables (I used eggplant, bottle gourd, carrot, peas)
½ cup chopped spinach
¼ tsp mustard seed
Salt to taste
2 tsp sambar masala
Turmeric powder a pinch
1 tbsp tamarind pulp (Mix in 1 cup of warm water)
2 tsp oil
1 tsp tamarind paste
Fresh chopped cilantro for garnishing
For tempering
3 tsp oil
1 tsp urad dal
¼ tsp mustard seed
1-2 green chillies split
2 dry red chillies
¼ tsp red chilly powder (optional-for color)
A pinch of hing (optional)
Few curry leaves
Method:
Heat oil in pressure cooker. Add mustard seeds and onions . Stir fry for a minute and add tomato.
Mix it for around a minute till tomato gets soft. Now add all the vegetables, dal, sambar masala, turmeric powder and salt.
Pressure cook it for 10 minutes on low flame or give 5 whistles.
When the pressure is released. Open the cooker and put it back on heat. Mash it a little if required.
Mix tamarind pulp in 1 cup of warm water and add to the sambar. Let it boil on low flame.
Adjust the consistency as it should be watery. Let it come to boil. Give 2 -3 boils, so that rawness of tamarind is gone .
In mean time prepare the seasoning. Take a pan. Add oil and all the ingredients for tempering.
Once they start spluttering remove the pressure cooker from heat and add this tempering in cooker.
Garnish with fresh chopped cilantro .
Serve it with steamed idli, dosa, vada or rice.