Vegetable Manchurian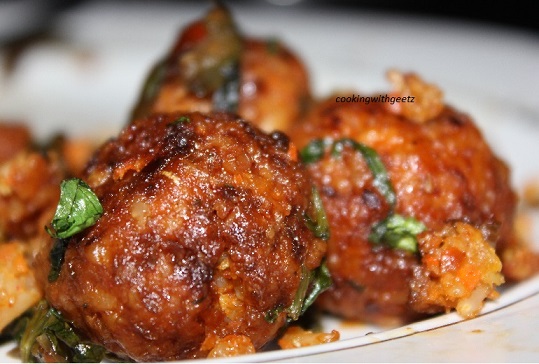 Ingredients:
For Vegetable Balls:
2 cups finely chopped or grated Vegetables(I used carrot, cabbage,cauliflower and beans)
1 tsp chopped Garlic
3-4 cloves garlic chopped
2 Green chillies finely chopped
2 tbsp maida/all-purpose flour
2 tbsp cornflour
1/2 tbsp rice flour(optional)
Salt to taste
1/2 tsp soya sauce
½ tsp chilli sauce
1/2 tsp black pepper powder
For sauce:
1/4 cup spring onions, finely chopped(you can also use yellow onions also)
1tbsp chopped ginger
2 tbsp chopped garlic
2 green chillies chopped
1/2 tsp red chilli powder
1tbsp soya sauce
1 tbsp chilli sauce
2 tbsp tomato sauce
2 tsp vinegar
1/2tsp sugar
Salt to taste
1 tbsp oil
Freshly chopped cilantro for garnishing
Chopped green onions for garnishing
Method:
Heat oil for Frying in a heavy bottom pan.

In a mixing bowl, add all finely chopped vegetables, maida, cornflour, rice flour, salt, ginger,

garlic, green chillies, black pepper powder, soy sauce, Chilly sauce and salt.

Sprinkle little water if required to make a thick mixture. Make fine small balls of this mixture as shown in the above picture.

Fry these balls on medium flame till golden brown and use a spoon to turn the balls around

so that they don't get cracks in them. Remove them on absorbent paper and keep aside.

Heat oil in a wok and add the chopped garlic and stir fry for a few seconds.

Add the green chillies and ginger and stir fry on high flame for a few seconds. Add white spring onions and fry for few minute till they turn translucent.

Add all the sauces, sugar, vinegar,red chilly powder and salt to this(remember your all

sauces too have salt in them). Mix it well. Add few spoons of water is required.

Toss the vegetable balls in this sauce on high flame for about two minutes. Them slow down

the flame on low and cover it with lid for 2 minutes so that balls absorb all the flavors of sauce.

Dry vegetable Manchurian is ready. Garnish with the chopped green spring onions and cilantro.
For making gravy Vegetable Manchurian:
Add additional 1tbsp of chilly sauce, ½ tsp of soya sauce, 1 tbsp of tomato sauce and salt to taste.
Than add 1 ½ cup of water before adding the balls to the sauce. In a separate small bowl
add 1 ½ to 2 tbsp of cornflour/cornstarch to cold water(1/4 cup).Mix it well.
Add this to your sauce. Let it come to a boil,Corn flour will help to thicken your sauce.
If you find your sauce is too thick you can add another ½ cup of water to it.
Give it a boil and add your vegetable balls to this gravy and garnish it with freshly chopped cilantro and green onions.