Vegetable Croquettes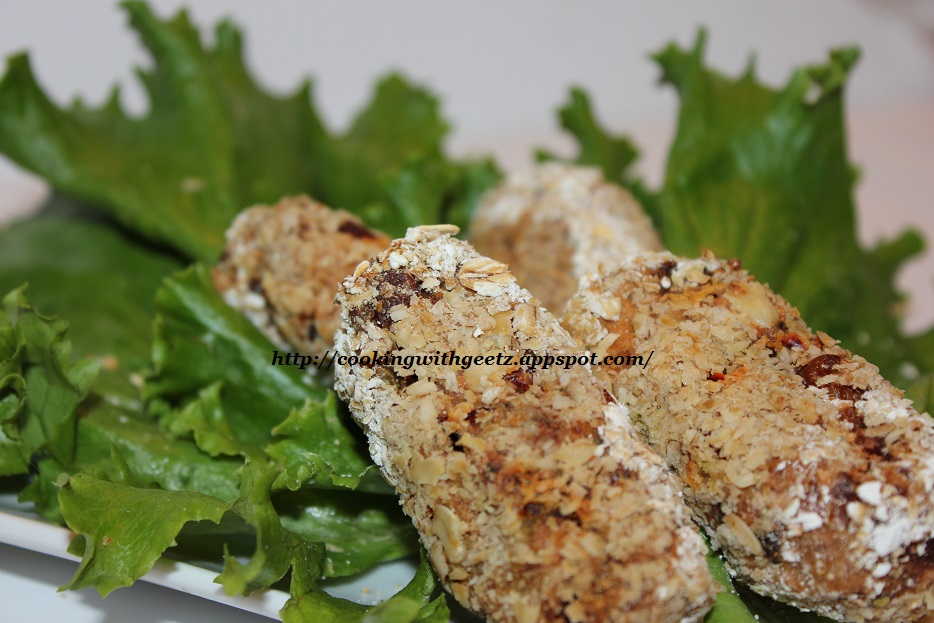 Ingredients:
4-5 medium size potatoes boiled and mashed
½ cup carrots cut into small dices (&frac12 cm)
¼ cup peas
¼ chopped green and red pepper
2 slices of whole wheat bread
2 green chillies chopped
½ cup shredded Parmesan cheese (optional)
Salt to taste
Black pepper to taste
oatmeal for coating (coarsely crushed)
oil for shallow frying (in case you frying)

Method:

Preheat oven to 350 degrees F.

Boil carrots and peas for 2-3 minutes and run them under cold water to stop cooking.

Mix boiled potatoes, carrots, peas, peppers, green chillies, whole wheat bread, Parmesan cheese, salt and black pepper.

Mould the mixture into cylinder shapes.


Spread oatmeal onto a plate and roll the cylindrical croquettes evenly.


Now bake them for around 25 minutes till they turn light golden and rotate them in between.
OR (If you want to fry, heat oil in pan and fry the croquettes on medium flame until golden)

Serve them with garlic mayonnaise or a yogurt dip..