Tartlet shots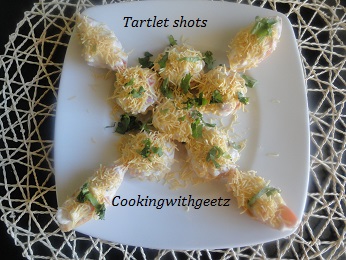 Ingredients
For tart dough
2 cups all purpose flour or multi-grain flour
¼ cup+ 3 tbsp low fat butter/ ghee/ oil
Chilled water
½ tsp salt
1 tsp sugar
For stuffing
1 cup thick yogurt
1 onion chopped
½ cup corns (I used frozen)
1 tbsp Mint chutney
Salt to taste
1 tomato chopped
½ tsp Cumin seed powder
½ green chilly sauce
½ fresh cilantro
Sev to garnish
Method:
First of all you have to prepare dough.
Mix flour with salt, sugar and butter (Add 3 tbsp if required). Mix it nicely with hands .you will get bread crumb kind of dough. Now add chilled water (3-4 tbsp)to make a dough. Dough will not be very smooth . Keep the dough in fridge for 15 minutes.
Now take small balls and start rolling the dough with rolling pin. The size should be around 1 ½ times bigger than your tart mold size.
Place it in your mold and press it gently with finger.
Make sure you press it nicely at the corners so that you get the better shape. Remove the excess dough from the top. Prick it with the fork.
In same way prepare all the molds.
Bake it in pre-heated oven at 350 f for 12-15 minutes or till light brown in color.
Mix all the ingredients of stuffing in a bowl. Stuff them in your tarts and sprinkle sev at top. Enjoy your tart shots.