Sweet potato chaat
(Street side shakarkandi at home)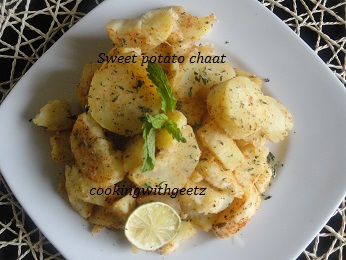 Ingredients:
2 medium size sweet potatoes
1 medium size lemon squeezed (you can also add tamarind chutney)
Black salt and chaat masala to taste
¼ tsp red chilly powder
½ tsp dry mint leaves powder (optional- not added in street chaat)
Method:
Pierce sweet potatoes with knife. Boil the sweet potatoes in your way. You can pressure cook, put them in oven or microwave.
I microwaved it for 7 minutes.
Now peel the sweet potatoes and cut them into pieces.
Sprinkle salt, chaat masala, red chilly powder, mint leaves and lemon juice. Toss them and enjoy.