Braid style stuffed roll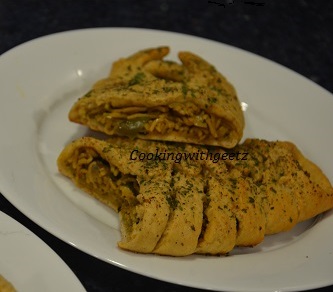 Ingredients:
For the bread dough:
2 cups all purpose flour (will make 3 big rolls , each roll sufficient for 2 person)
½ tsp salt
1 tsp sugar
2 ½ tsp yeast
1tbsp oil
Warm water
Egg to brush the rolls
Oregano or parsley to sprinkle
Stuffing:
2 packs Maggie noodles
1 onion sliced
1 capsicum sliced
½ cup corns
salt to taste
Method:
Take flour in a bowl. Make a well in center and add yeast, sugar, salt and oil.
Mix them all. Now add warm water and make a dough. Make sure water is not cold and not to hot else yeast will die.
Dough should be soft. To check if its done press it with finger and it should bounce back. Now keep the dough for rest for at least 1 hour in warm place.
After one hour you will see dough is double in size.
Prepare Maggie as per the instructions on pack and add onion, capsicum and corns to it.
Now divide dough into 3 parts. Start rolling it. I roll it approx 12 inch long. Now place Maggie in center of the rolled dough.
Now with knife make cuts on side. And start folding it like braid starting from top.
keep folding it till the end
Now let it rest with 15 minutes and brush it with egg and sprinkle oregano or parsley. Bake it in pre-heated oven for around 15 minutes.
Yummy Maggie stuffed roll are ready to eat now.