Idli Manchurian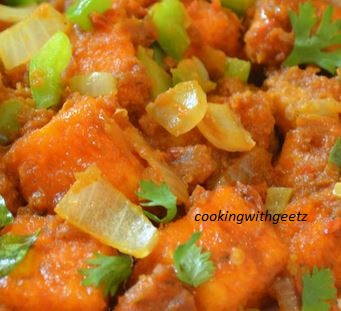 Ingredients
7 to 8 pieces of idly cut into four equal parts each(If you want you can also fry the idli's but I used it without frying)
1 big onion sliced
2 pieces of capsicum sliced
1 tsp ginger paste
2-3 green chillies sliced
1tsp mustard seeds
1-2 tbsp of tomato sauce
1tbsp of chilly sauce
1 tbsp of green chilly sauce
salt if required
few curry leaves
Chopped cilantro
chopped green onions for garnishing
Method:
In a pan add oil. Add mustard seeds, once they start crackling, add curry leaves and green chillies. Than add onion. Fry it for a minute and add capsicum. Fry it for another 2 to 3 minutes and add ginger paste. Mix it well.
Now turn the heat on low, and add all sauces. If required add salt as already all the sauces contain salt.
Now toss the idli pieces into this mixture. Cover the pan with lid, and let it be on low heat for a minute.
Remove it from heat but don't remove the lid. Leave it for about 5 to 7 minutes so that idli's absorb all the flavors.
Garnish it with fresh chopped cilantro and spring onions. Serve it with any chutney.
I prefer serving it with Coriander and tamarind chutney.:-)